Word Craze Daily Theme Answers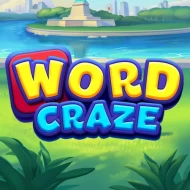 Please find here all Word Craze Daily Theme Answers. Words have the power to captivate, inspire, and challenge us. They can transport us to different worlds, evoke emotions, and even spark a friendly competition among friends. If you're a fan of word games and puzzles, then prepare to embark on a linguistic adventure with Word Craze! And for those seeking a helping hand along the way, look no further than dailyanswers.net, your one-stop destination for all the daily answers. 
Word Craze is a popular online word game that tests your vocabulary skills through a series of puzzles, riddles, and brainteasers. Whether you're a seasoned wordsmith or simply looking to sharpen your linguistic prowess, this game offers a delightful challenge for players of all levels.
The gameplay mechanics are simple yet addictive. Each level presents you with clues and a set of jumbled letters. Your task is to arrange those letters to form the correct words that match the given clues. As you progress through the game, the difficulty level increases, keeping you engaged and motivated to push your limits.
The game is available to download for both Android and iOS devices. The puzzles need lots of work and concentration and if you still can't completely solve it, we're here for you with the solutions you need. Below you can find a large list of older Word Craze Daily Theme answers.
Clues Starting With