Daily Jumble November 21 2023 Answers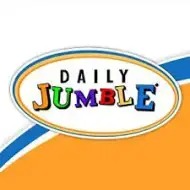 Please find here today's Daily Jumble November 21 2023 Answers. At first glance, the jumbled letters may seem like a random assortment of characters. But with a bit of patience and some trial and error, you can usually unscramble them to find the hidden words. The more words you find, the closer you get to solving the final puzzle.
Daily Jumble is a great way to pass the time and challenge yourself. It's also a great way to improve your vocabulary and spelling skills. By unscrambling the jumbled letters, you'll be forced to think about word structure and the rules of English spelling and grammar. If you notice a mistake, please don't hesitate to contact us. It will be more than a pleasure to help you out. 
PLEASE NOTE: The following solutions belong to the Daily Jumble November 21 2023.
If you are done with the November 21 2023 Daily Jumble Puzzle and are looking for older puzzles then we recommend you to visit the archive page.