Daily Themed Crossword Packs All Levels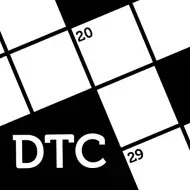 You are in the right place if you are searching for Daily Themed Crossword Packs Answers and Solutions. Daily themed crossword packs offer a delightful way to challenge your mind and keep your vocabulary sharp. These packs consist of a collection of crossword puzzles, each based on a specific theme, making them perfect for those seeking variety and excitement. Whether you're a crossword enthusiast or just starting out, these packs provide a range of difficulty levels to cater to all skill levels. And the best part? If you ever get stuck, you can easily find the answers and solutions to these puzzles at dailyanswers.net, a comprehensive website dedicated to helping crossword lovers conquer any challenge that comes their way. 
The game was developed by PlaySimple Games Pte Ltd and is available to download for both Android and iOS devices. Below you can find a large list of older Daily Themed Crossword Packs answers.